© Andreas Gnigler
07.05.2022
Enfleurage - Around its Tail
Enfleurage - "Around its Tail" is now available on all music platforms! Thanks to everyone who worked on this album with us, especially: Mazi Vafaei, Martin Siewert, Elham Fakouri & Ju Aichinger. Thank you SKE Fond and Land Kärnten for the financial support. CDs can be ordered via Waschsalon Records Bandcamp.
© Elham Fakouri, Ju Aichinger
---
29.04.2022
Enfleurage - Wren´s Nest Music video
As preview to the album "Around its Tail" (which will be released next week) here is the music video for the track "Wren´s Nest" made by Elham Fakouri! Thank you
---
20.03.2022
AHl6 - New Video and Ö1 Radio session
As AHL6´s second album is coming soon we recently released the video to track 1 called "Melting Stones" created by wonderful Sophia Mara Egger-Karlegger - you can listen to a live version of it at today´s Ö1 radio session hosted by Klaus Wienerroither at 19:34. Afterwards the session is available 7 days on demand.
Here is the link: Ö1 Radio Session AHL6
---
07.03.2022
New Project: Enfleurage
"Enfleurage" is a new bandproject with gorgeous musicians Anna Anderluh and David Gratzer!
We did a spontaneous recording session in one of the previous lockdowns - without compositions or any plan. After all we liked the recorded improvisations so much that we decided to make an album out of it. Watch this performance video for the track "Desio Park" to see/hear what we are doing in this project.
Thanks to Maz Vafaei, Martin Siewert and Cosma Bailalo! Further info coming soon :)
---
04.03.2022
Aufmessers Schneide - Stereo Friction
Aufmessers Schneide - "Stereo Friction" has been released on Jazzwerkstatt Records in the meantime! Very happy to contribute my drumming to Gregor´s music. The album is available on most digital platforms; physical copies can be ordered via the Jazzwerkstatt Shop.
© Theresa Pewal, Ju Aichinger
---
03.02.2022
Happy 22 Update
Hallo 2022! Finally it´s time to bring in the harvest of last year´s work ;)
These productions are going to be released soon: the second studio album of Aufmessers Schneide called "Stereo Friction", the second studio album of AHL6 named "If Life Were A Liquid", the debut album of a still secret trio and an EP of Kaufhaus Kiu!
You can already listen to Aufmessers Schneide - "Tes Demons" and Kaufhaus Kiu - "Die Wurst" - just follow the links.
---
28.11.2021
Radio Jazzclub - FRS Salzkammergut
Recently the latest edition of "Radio Jazzclub" was broadcasted. This is Emilian Tantana´s (head of Jazzfreunde Bad Ischl) program on "Freies Radio Salzkammergut". He presented three exciting live recordings from AHL6´s concert at PKS Villa Bad Ischl from end of July 21 and an interview with me!
Thank you Emilian! Here is the link to the program: Radio Jazzclub on 22.11.2021
---
06.11.2021
Busy autumn is over!
Hey there, a pretty busy period has come to an end now and I´m very happy that all of those concerts could have happened! Thanks to AHL6, Criss-Cross, Anna Anderluh, INTRA and znap for the amazing shows! You can rewatch AHL6´s concert at blue tomato on youtube now - thanks to haslauer.tv
---
21.09.2021
AHL6 Autumn Tour
AHL6´s autumn tour starts this friday in Linz. I´m really looking forward to!
Come by and bring some friends ;)
© Ju Aichinger
---
23.08.2021
August Update
Time for a short news update - lots of things happened since the last post: I´ve been recording the second album of my sextett AHL6 , some more singles with INTRA and played great concerts with AHL6 at Jazzfreunde Bad Ischl and Jazzfestival Saalfelden! Autumn starts off with some more gigs and studio recordings. Besides an album by an newly founded trio is in the starting blocks - stay tuned for details ;)
© Tobias Pöcksteiner
---
09.06.2021
Boa Boa on Ö1 Rein-gehört
On Sunday the 13rd of June znap - Boa Boa is going to be featured in the Ö1 program "Rein-gehört" among other interesting topics! Looking forward to that :)
It starts at 22h05. Here´s the link: Ö1 Rein-gehört
26.04.2021
5 Millionen Pesos Spezial
On May 3rd radio Ö1 hosts a concert with all jazz-scholarship winners of the last three years. Every one is going to play with his/her own band, so I´m really looking forward to sharing the stage with these brilliant colleagues! Hopefully one of the last concerts without an audience for a while ;)
Further info and video stream --> RKH Online stream
07.04.2021
Drummer of the month: backbeat music magazine
I had a very nice interview with the music magazine backbeat. They made me drummer of the month April, wow! Follow this link to read the whole interview: Backbeat Interview
I also got the chance to play a bit for them. Here´s the video - a short demonstration of the drum part of znap´s tune "Lukas' Pausenbrot".
---
19.03.2021
znap - Boa Boa: Release
Here is znap´s second album "Boa Boa"! I´m really happy about it. A big thank you to everyone who contributed to the release of this record!
Weitere Infos --> znap.at
---
21.02.2021
znap - Boa Boa: Album #2
On 19th of March 21 znap´s second studio album "Boa Boa" is finally going to be released!
Check znap.at or waschsalonrecords.com to buy the record.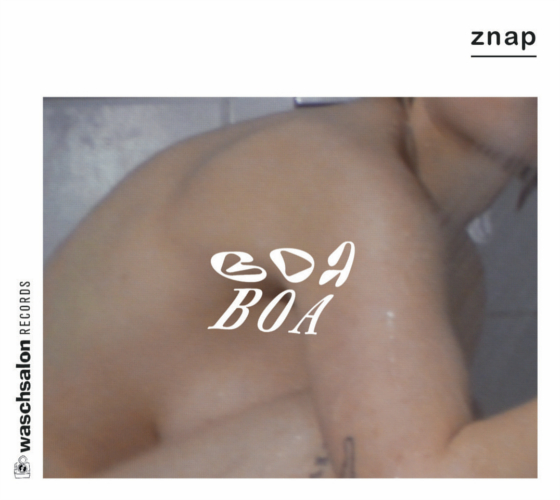 © Ju Aichinger
---
06.01.2021
Happy New Year!
I wish you a good start into 2021 and hope it´s gonna be a better year than the one before. Recently lots of things happended in the background. Looking forward to share new releases with you soon!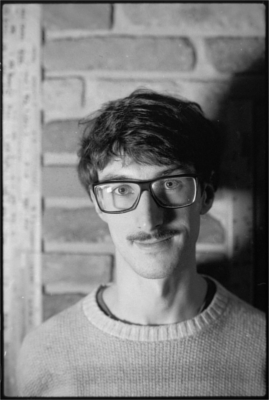 © Lukas Andrej Grossl
---
16.11.2020
News update
Wow! Long time since I updated the news section....I was lucky enough to play a couple of concerts with znap and Aufmessers Schneide before lock downs in Italy, Germany and Austria came in. Picture: znap playing at Kühlspot, Berlin.
And finally znap recorded the second studio album! Very excited about the final outcome. Should be released in spring 21. Now back to practicing and preparing stuff for some future projects - hope I can play some more concerts this year!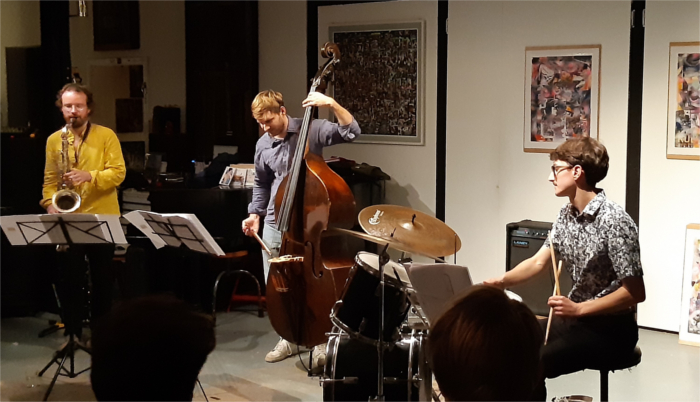 © Regina Camara
---
06.09.2020
AHL6 Release Concert: 21.09.20
On 21st of September AHL6´s release concert on "Thinker Try To Dance" finally takes place! I´m really looking forward to this concert so I would be very happy if you join us!
further details, ticket purchase, reservation: Porgy&Bess
© Ju & Lukas Aichinger
---
26.08.2020
Ö1 Radio Session: Charlie Parker
I had the pleasure to record a spontaneous radio session with Astrid & Beate Wiesinger, Philipp Jagschitz und Klaus Wienerroither before summer. This session features tunes of the legendary Charlie Parker who would have turned 100 in a couple of days. Listen to it live on Ö1 on coming Sunday at 19:33 or find it 7 days online afterwards. Enjoy!
Ö1 Kunstsonntag: Radio Session
Listen back to the whole program on 7 Days Ö1
---
06.07.2020
Ö1 Spielräume Portrait
A lot of music I participated in is featured in the program Ö1 Spielräume next Sunday, 17h10! Big pleasure, thank you Klaus Wienerroither and Ö1!
Ö1 Spielräume: Porträt des Musikers Lukas Aichinger
Listen back to the whole program on 7 Days Ö1
---
29.05.2020
AHL6 - Thinker Try To Dance: Release
Finally the album is out! I am really happy. A big thank you to my gorgeous band, Martin Siewert, Ju Aichinger, Laura Strobl, my family, SKE Fonds and to everybody else you helped making that music happen!
Further Info --> AHL6
---
26.05.2020
Jazzdination Radioshow
The fabulous Jazzdination Radioshow invited me to talk about AHL6 - "Thinker Try To Dance". Follow the link below to listen to the whole thing.
Soundcloud - Link
---
30.04.2020
Album Release
AHL6 - Thinker Try To Dance is going to be released on May 29, 2020!
I am really looking forward to sharing this music with you.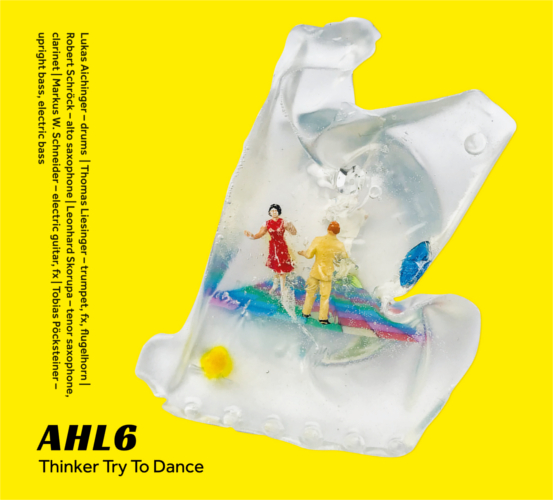 © Ju Aichinger
---
03.04.2020
Waschsalon Records
Together with Michael Tiefenbacher, Tobias Vedovelli and Leonhard Skorupa I founded the label Waschsalon Records. The first release is going to be AHL6 - Thinker Try To Dance.
Find out more by following the links below!
Waschsalon Records - Homepage
Video: Introducing Waschsalon Records
---
21.03.2020
Ö1 Jazznacht Interview
I am very happy to be interviewed in tonight´s Jazznacht (starting 23:25 CET) by Andreas Felber. Music from the past 5 years will be presented as well as some additional information about me and my ensembles.
Ö1 Jazznacht
Interview on 7 Days Ö1
---
20.03.2020
Support
Due to the Covid-19 crisis bandcamp is waiving their revenue shares on sales today. Nevertheless bandcamp is the platform where we artists get the most for their releases.
If you want to support me there are 2 albums on bandcamp I played drums on:
INTRA - The Contact (2019)
znap - homo digitalis (2018)
---
14.03.2020
Covid-19
Well, all concerts cancelled or postponed...
But you can listen to the radio show Ö1 Spielräume Nachtausgabe: Ornette Coleman I was part of for 7 days now. Enjoy!
---
03.03.2020
Back in town
Had a very productive and motivating time in Berlin. Lessons with great drummers like Jim Black, Christian Lillinger, Oli Steidle and Moritz Baumgärtner, lots of interesting concerts - wow!
Now I am preparing for Ö1 Spielräume Nachtausgabe: Ornette Coleman. Very looking forward!
Also new INTRA dates added; visit Live
---
26.01.2020
Znap Radio Session
Znap´s radio session is going to be broadcasted on Ö1 today at 19:33.
Tune in or listen within 7 days. Enjoy!
Ö1 Kunstsonntag Radiosession
---
12.01.2020
Happy New Year!
I wish you a good start into 2020!
Exciting things are happening; more infos tba soon.
In the meantime I would be happy to meet you at one of my concerts in January!
---
29.07.2019
Ö1 Interview
Tomorrow, on 30th of July 19 at 07:55 a longer cut of my Ö1-Talentebörse-Interview is going to be broadcasted. Find the link below to listen ;)
Ö1-Talentebörse
---
27.07.2019
English version
Finally there is a english version of this page!
Special thanks go out to Phil Yaeger for all the translations except this news section ;)
---
04.06.2019
AHL6 debut album
Over the last weeks I´ve been recording with my band AHL6 in cooperation with Martin Siewert. Most of the tunes already got mixed as well.
Here is a beautiful photo from the end of the session. More infos coming soon!
© Fabian Ressl
---
27.05.2019
Ö1 Live Session: Aufmessers Schneide
At the end of March I had the pleasure to do a Ö1 radio session with "Aufmessers Schneide" who´s led by my friend, bass player Gregor Aufmesser. The session was hosted by Klaus Wienerroither.
Listen to session here:
Ö1 Player
---
30.04.2019
Ö1 Jazzstipendium
I am really happy to announce that I won this years Ö1 - Jazzstipendium 2019!
Special Thanks got out to my band mates Gregor Aufmesser and Leo Skorupa for playing with me in the finals!
Ö1 Artikel
Interview in the Ö1 program "Leporello"
---
Hallo!
Finally I got a homepage to share my musical activities with you!
Lots of things going on throughout the last months.
On 1st March 19 INTRA - "The Contact" was released via StoneFree Records.
And on 14th March 19 the album Kurdophone - "Isomer" was released on Lotus Records.
I play drums (and additional percussion) on both records.